Deskripsi
Centennial College is Ontario's first public college, with five campuses in Toronto, Canada.
Centennial offers high-quality Canadian Education that is hands-on, and employment focused. Programs at Centennial promote experiential learning with laboratory instruction, co-op education, and industry placements.
Many Centennial programs offer Canadian work experience and provide eligibility for designations from Canadian professional associations. Centennial consistently ranks #1 in Toronto for Student Satisfaction (KPI: 2016-2020). International students are achieving their goals at Centennial College, and leading the province in rates of successful graduation!
 An impressive 90.1% of our international students studying Graduate Certificate programs complete their program at Centennial and graduate successfully.


With seven specialized academic schools, Centennial College offers more than 160 Programs.
Centennial offers foundations, post-secondary and post-graduate programs in:

Business,
Engineering Technology and Applied Science,
Communications,
Media, Arts and Design,
Health,
Hospitality, Tourism and Culinary Arts,
Transportation.

Centennial also offers English Language Learning and Foundations programs for college and university preparation.


Internationalization and Pathways Through extensive partnership building, Centennial offers a global network of incoming and outgoing Pathways and credit transfer agreements with partner institutions: 398 international pathways and more than 600 Canadian pathways are established!

Centennial is the #1 college choice for international students in Canada and one of the most culturally diverse post-secondary institutions in the country. Centennial is a big institution and well recognized in Canada and around the world. Enrolment is over 25,000 full-time students, including 11,000 international students from 125 countries. As you enjoy the academic benefits of a Canadian college education, a wide range of global perspectives will enrich your education and experience.

Centennial College welcomes you in your pursuit of an incredible international education experience. Centennial has a reputation for student and graduate success and numerous awards for International Education Leadership. 

MA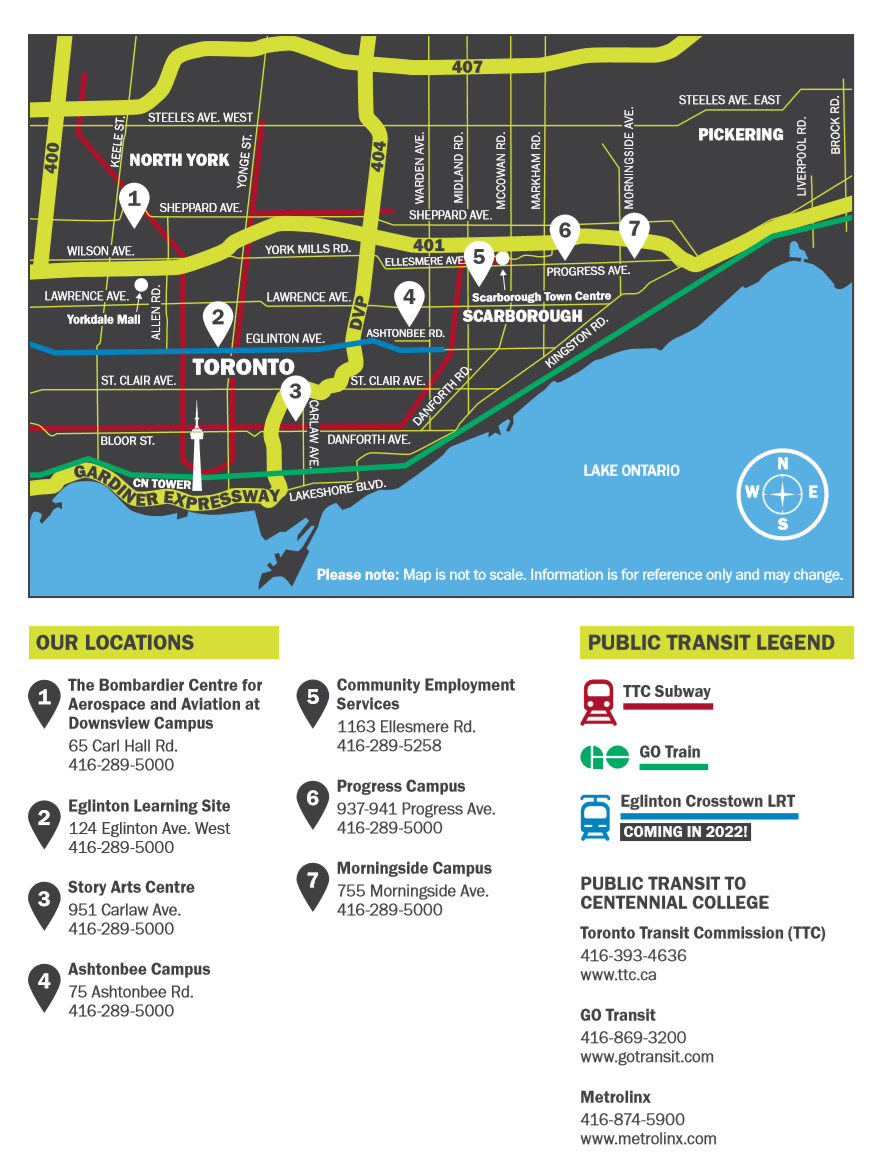 Keunggulan
Centennial College was the first in a network of public colleges in Ontario designed to help the province become more competitive in an increasingly technological world. Today, Centennial College is the number one college choice for international students in Canada. Centennial has hosted over 50,000 international students in its 56-year history.


WHY CHOOSE CENTENNIAL COLLEGE?
• Affordable and cost-effective
• High standard of education
• Co-op and industry connections
• Incredible diversity
• Opportunity to work
• Safe city and friendly community
Discover the benefits of choosing Centennial! Top Five Reasons: www.centennialcollege.ca/admissions/international-education/why-choose-centennial-college/

An award-winning Canadian institution Centennial received the Gold Medal for Leadership Development at the 2018 World Federation of Colleges and Polytechnics (WFCP) Awards of Excellence. Centennial also received the 2016 Gold Medal for Internationalization Excellence from Colleges and Institutes Canada (CICan).
We are leaders, innovators, and entrepreneurs We work with over 800 industry partners! You have access to the latest equipment and technology, industry-leading faculty and co-op opportunities to get you work-ready upon graduation. Centennial received first prize for Innovation in Applied Research.
Among 125 colleges, Centennial ranks third in Canada for the number of students employed and paid to conduct applied research (Canada's Top 50 Research Colleges: 2017 Report). Over 1,000 pathways! Centennial College programs offer 367 Degree Pathways with partner universities in Canada and abroad.
 CO-OPERATIVE EDUCATION (optional Co-op program)


Co-operative education, is a program where students get the chance to work with pay in an industry related to their field. Most co-op programs are structured so that each term or semester of schooling is alternated with a term or semester of work. If you still confuse please check this link for better explanation (

https://www.studyincanada.com/News/11/1510/Redirect

) 
Career Services
Career services works with students and graduates to provide them with the necessary career planning and job search tools to help them move from education to employment and is available from your first semester up to two years after you graduate. While you are a Centennial student, co-op gives you valuable Canadian work experience that you can add to your resume. Co-op helps you decide what kind of career you will want, helps you pay for your college education and increases your chances of quickly establishing a successful career (with a higher salary) as a graduate.
( https://www.centennialcollege.ca/student-life/career-services-and-co-operative-education/co-op-education-at-centennial/co-op-for-students/)



Age limit?


No, as long as student have the

academic

 requirement (high school/secondary qualification) and any additional requirements; stated by each specific course/program.  Anyone can apply for Centennial College. No matter how old or young.
Scholarship?
Currently, International students are not eligible for Ontario financial aid, bursaries, or Centennial College's entry scholarships. However, after successfully enrolling in the first year of study, international students can be eligible for partial scholarships based on academic merit, sports and athletics, and leadership along with all other students. https://www.centennialcollege.ca/admissions/international-education/scholarships/

Program available for International Student: